Yesterday, on Saturday 6th of June, we made our first visit in DoF (Delving of Fror-Ettenmoors) as a guild, and with the help of our friends from
Nusilme
and
Knights of the white tree
we eventually managed to down 2 raid bosses - Rottenroot (twice) and Gworvaethor - (there are 4 in all the delving/the damn matron wouldn't respawn, what a tragedy).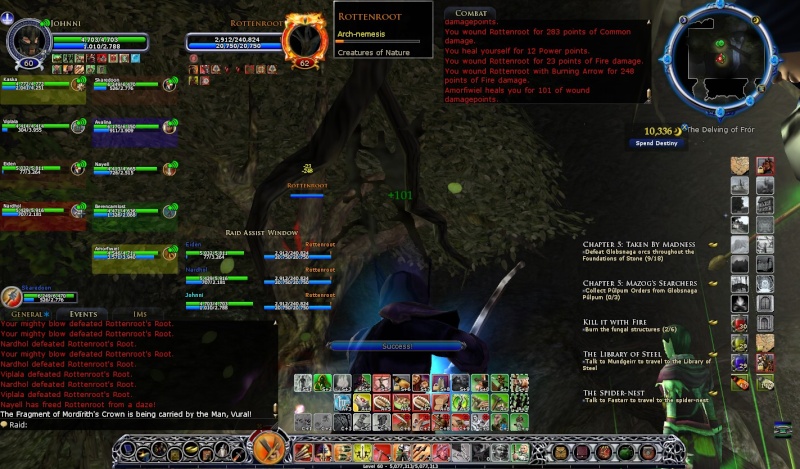 The run was unexpectedly succesfull regarding the fact that all people online (10 of us) spontaneously showed interest in doing something with their kinship which is pretty encouraging as no special organisement was made.
Moreover, we were probably the 1st ones to kill the tree boss after book7, let alone we accomplished a 12 man raid fight with only 10 people, not balanced teams and no cc classes at all, which is kinda impossible cause first phase of the figt (and most difficult one) is all about roots, aoe stuns and fears. (picture above)
Grats to all involved!
Special thanks should go to Kaska for his initiative, our friends from the other 2 guilds for their support (and especially skaredoon and eiden) and Nardhol for eventually joining the ''noobs'' grp

.
Concluding, i'd like to announce that we got a raid for the unbound guy in our future plans (watcher comes first tho but the unbound has rly got me and kaska thinking// for the note: the 'unbound' is the most difficult boss of the game and the only 24-man raid boss for 60 lvls atm, only 1 kinship in Europe as far as we know, and no kinship in Snowbourn have killed him until now)
Now a couple of pictures

Farming tree boss (2nd time with our friends from nusilme and kowt...
Wight boss (sry for the awful picture, was busy with adds)...